Your team vision should be a vision statement that applies to everyone, including leaders and employees. This short statement gives the team a clear direction and a purpose — they're not just coming to work every day, they're working toward a common goal.
5 Steps to Creating a Team Vision
As a team leader, you're responsible for giving your team direction and motivation. Using the steps below, you can create a comprehensive vision that unites your team toward a common goal and encourages a sense of unity.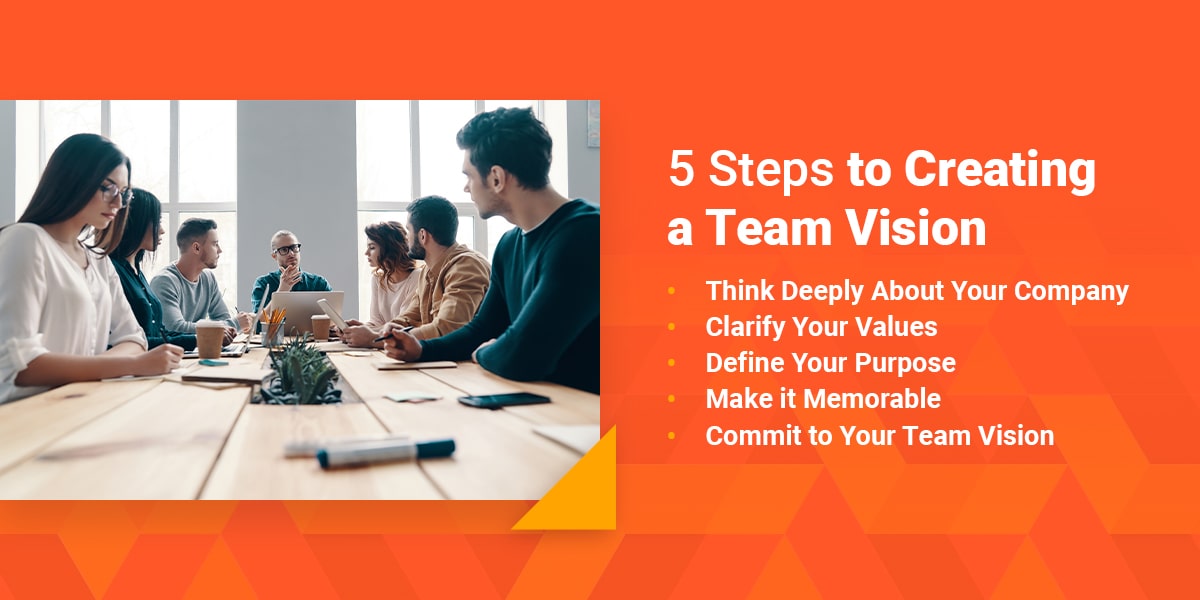 1. Think Deeply About Your Company
Think about where you are as a company and where you want to be. Ask yourself the following questions to consider where your business will be five years from now:
What does each area of the business look like?
What does the business look and sound like?
What are people saying?
Is the office the same?
When you're reading a book, the author brings together all of your senses to create a new world, and the same applies to creating a team vision.
2. Clarify Your Values
Define your team by describing each part of your business in detail, including your values, beliefs, unspoken rules and standards for excellence. These guiding points can help shape your team vision.
3. Define Your Purpose
Pinpoint your team's primary mission. Consider how your team's jobs tie into the bigger picture of the company's vision and communicate the impact of their work. Give your team a clear directive to drive their efforts and inspire passion.
When establishing your mission, be sure to make it big enough that there's room for growth, but not so big that it feels out of reach. Be bold, but remain realistic.
4. Make it Memorable
Take all of these elements and summarize them in one sentence. The sentence should be memorable and easy to repeat. While it may not encompass every aspect of your vision, your team will remember the meaning and process behind it, so it will carry the full impact of your discussion.
5. Commit to Your Team Vision
Plaster your team vision everywhere so it's at the forefront of everyone's minds. Use it in email signatures, post it around the office and use it as a continuous reference point in team discussions. The more you use your team vision, the easier it will be to keep your team motivated and moving forward.
---
Subscribe to our Leadership Development Newsletter Today
Get daily leadership development tips, tricks and resources straight to your inbox. Subscribe below:


This site is protected by reCAPTCHA and the Google Privacy Policy and Terms of Service apply.
---
Get Help With Your Team Vision
At Dame Leadership, we can help guide you through a successful team vision workshop with our leadership development programs like Culture by Design and Strategic Planning. Get in touch with our team online or give us a call at 717-524-4265 to get started.

How to Begin? Contact Dame Leadership Today
CONTACT US