Welcome to Evolution22!
We are excited you're here and have a great day planned. On this page you'll find content presented by our speakers, and a form to enter for door prizes. You can also request information about Dame Leadership service offerings.
This event would not be possible without the extraordinary support of our sponsors listed on pages 10, 11 and 12 in your program. We cannot thank them enough for their commitment bringing you this conference for the last 8 years. We are truly grateful to them.
Download the Evolution22 Conference app for live details of the day's agenda.
---
Door Prizes
Use the form at the bottom of the page to enter the drawing. Winners will be announced throughout the day and you do not need to be present to win.
Tribes – We Need You to Lead Us
Winners receive a copy of the text autographed by author Seth Godin
The New York Times, BusinessWeek, and Wall Street Journal Bestseller that redefined what it means to be a leader.
Since it was first published almost a decade ago, Seth Godin's visionary book has helped tens of thousands of leaders turn a scattering of followers into a loyal tribe. If you need to rally fellow employees, customers, investors, believers, hobbyists, or readers around an idea, this book will demystify the process.
Recruiting in the Age of Googlization
Winners receive a copy of the text autographed by author Ira Wolfe
No business function is being disrupted by technology and demographics as much as recruitment. Tried and true recruiting practices are no longer working. New job categories are emerging, traditional jobs are disappearing and employment technologies are advancing at an exponential pace. An evolving definition of work and acceleration in the automation of work is only intensifying the competition for qualified workers. And yet many companies continue to recruit and screen talent like it was still 1970.
In Recruiting in the Age of Googlization, Dame Leaderhip's Ira Wolfe exposes the realities of automation on the future of jobs and the rapid reconstruction of the concept of work.
Create Great Culture in a Remote World
Winners receive a copy once the book is released October 22
The worst of the pandemic is finally behind us, but the changes it forced in how and where work gets done will last forever. To the delight of millions but the angst of others, remote and hybrid work is here to stay. It's not just individual worker preferences and expectations that are disrupting the workforce, but the gulf between managers and employees is growing. Future of Work Global Thought Leader and Dame Leadership team member, Ira S Wolfe, joined 3 of America's Top Business Coaches to co-author "Create Great Culture in a Remote World" and share tips on leading teams working remotely. The book will be available October 2022 on Amazon and Ira's Website
---
Presenter Downloads
Find today's presentations and content shared here.
Cyber Risk is a Business Risk – an Executive's Guide to Cybersecurity
The CEO's 7 Laws of Leadership – Vistage Member Support Guide
Request information about becoming a Vistage member.
The Everywhere Workplace in a Never-Normal World
Link here [WAITING ON CONTENT]
---
NEW – Employee Assessment Service Offering
On August 1, 2022 Dame Leadership acquired Success Performance Soltutions (SPS), a national provider of employee assessment solutions.
The acquisition of SPS fits into Dame Leadership's growth strategy as the organization continues to expand its footprint and services nationwide. By purchasing SPS, Dame Leadership can offer clients a comprehensive suite of more than 10,000 innovative and reliable assessments.
Working with Dame Leadership to incorporate a comprehensive assessment strategy as part of your strategic plan will give you much deeper insight into your company leadership and employees. It will allow you to make more informed decisions about hiring, and how to best develop company talent that aligns with your mission, vision, goals and objectives.
To request information about Employee Assessments, use the form below.
---
Leading Your Hybrid Team Webinar
The new normal of the hybrid team continues to present challenges to leaders in ways that have never been experienced before. What we hear from our clients are questions about how to be successful in a hybrid environment in areas such as: leadership, performance, accountability, expectations, culture, values, communication, alignment, and team development.
We are in the process of creating a webinar that we will provide at no cost to Evolution22 attendees. The date of the webinar has not yet been determined. Connect with us using the form below to receive your personalized invitation for this exciting upcoming webinar event.
---
Dame Leadership Team
Our team is here to make your conference experience the best it can be. Let us know if there is anything that we can do.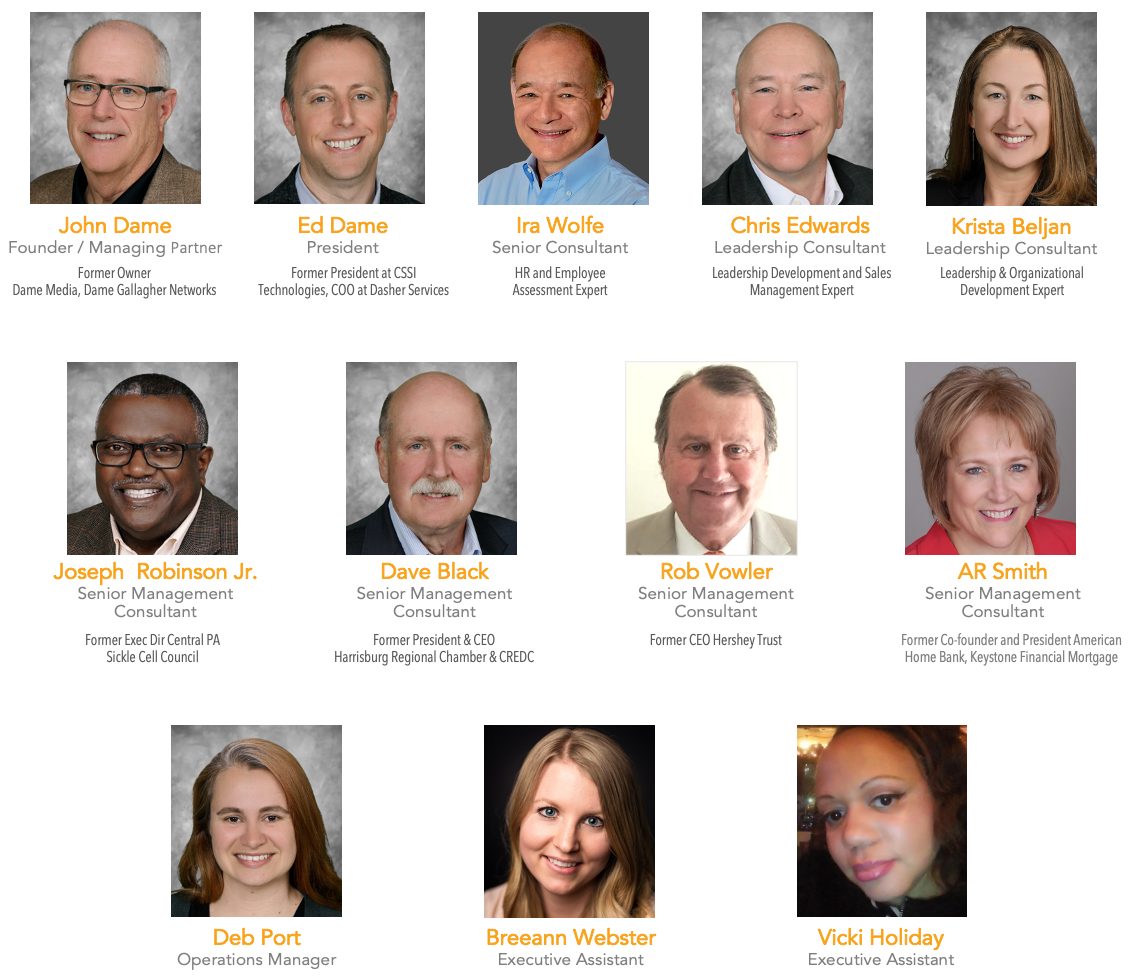 ---
Keep the Conversation Going
We hope you take the ideas discussed today and implement them. We encourage all of you to keep the conversation going once you get back to your organization, and don't let the energy and enthusiasm of this day evaporate when you walk out the door.
Leadership is hard, and the challenges are many. Lasting growth and improvement come from an alignment with purpose—intentional, incremental, and ongoing—it's an evolution. Today we planted seeds of ideas within each of you. How these ideas are fostered, nurtured, and grown is up to you. 
If there is anything Dame Leadership can do to help you on this journey, let us know.
About Dame Leadership
Dame Leadership is a consulting firm that teams up with company CEOs, founders, and owners to crystalize their purpose as leaders, align their organizations to execute on goals and objectives, achieve extraordinary results, and create a lasting legacy.
Founded in 2002, Dame Leadership holds an unparalleled reputation for integrity and excellence. Each day we work through leaders to create a world where every individual is valued and respected.
If you're not currently a client, we'd encourage you to seek out some of our many clients here today to hear from them why you should be.
For more information visit www.dameleadership.com
We are hiring individuals with a background in leadership development and a passion to help individuals and companies develop, grow, and succeed. If that describes you or someone you know, please contact Ed Dame ed@dameleadership.com.