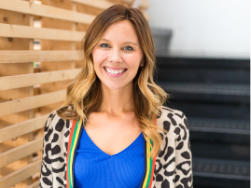 Businesses around the country are moving their in-person sales efforts digital. How does your organization leverage tools such as Linkedin, Facebook, and Instagram to drive prospects and sales quickly so your competition stays in the rearview mirror? In this workshop, Chatterkick CEO Beth Trejo will work with participants to identify where to start understanding the value that social media can bring. We'll cover exercises such as a live member digital analysis to strategize quick wins for each member business as well as identify zero cost approaches that still work.
About the Speaker:
Beth Trejo is the leader, mentor, torchbearer, innovator, and Founder CEO of Chatterkick. As a trailblazing entrepreneur, Beth defied the odds of successful female-founded start-ups, growing her company while actively redefining how businesses connect with people both on and offline.
Featured in USA Today and Yahoo News, Beth Trejo ranked #20 out of the Top 50 Best CEOs for Women in Small/Mid-Sized Companies two years in a row. As an advocate for women in the tech industry, Beth incorporates her passion for the digital landscape and social media into nearly every role she has ever known with a "whole life" perspective, from entrepreneur and local business advocate to her calling as a wife and mom of two tech-savvy kids.
In 2017, Beth launched "Technically Iowa," an award-winning podcast to unite female leaders in technology across the state. Her agency also broadcasts their "Generation Social Media" podcast to take a unique look at the philosophies, tactics, and tools it takes to tell your brand story on social. She leads her industry by example by giving the world a glimpse of the creative force that powers her people—and the results her clients love. Follow @chatterkick on Twitter, Instagram, Facebook, and LinkedIn.
This is a Vistage presentation. Contact us to learn more about joining Vistage.

How to Begin? Contact Dame Leadership Today
CONTACT US