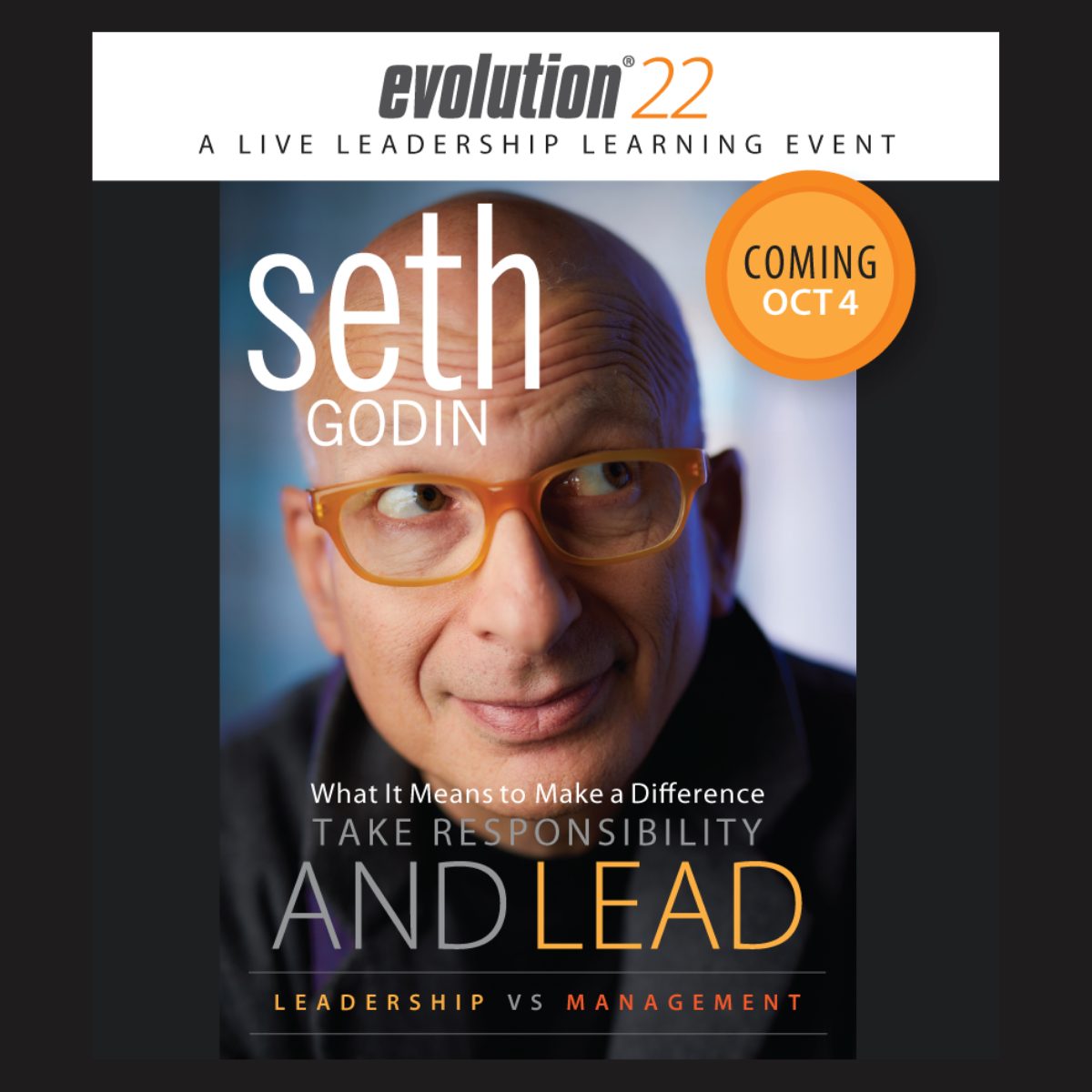 8:00 AM – 4:00 PM
Our annual EVOLUTION event allows executives from across the country to learn, grow and support each other as they pursue even stronger vision and leadership. With training and support, we'll equip you with the tools you need to find your purpose and maximize your impact.
Agenda
This year's keynote speaker will be marketing pioneer, best-selling author and speaker, Seth Godin! The conference will include:
Networking

CEO panel about "Leading in the New Normal"

Breakout sessions

Various business spotlights and speakers

Keynote by Seth Godin

And more!
There will be a happy hour reception afterward.
How to Register for Evolution 2022
To register for our 2022 conference, please download our event app, Whova, to purchase your ticket. For more information, visit the official Evolution Conference site – https://www.evolutionconference.org/tickets/
Travel Tips & Information
If traveling to the conference, please check out the below information for suggestions on where to stay, transportation, and other things to do in the area!
Where Do I Stay?
Every year, the Evolution Conference is held in Lancaster, PA – a city full of beautiful farmland, rich history and exquisite cuisine.
We recommend The Warehouse Hotel, a beautiful industrial-style hotel housed right beside the event complex – https://www.warehousehotel.com/manheim
Where Do I Eat?
Lancaster is well-known for its family-style Pennsylvania Dutch fare but also has a variety of other options so there is something for everyone!
Check out these nearby dining options – https://www.spookynooksports.com/manheim/about/area-information/area-dining
Parking
Parking is FREE!
Note: Parking onsite is on a first-come. first-served basis and early arrival (30-45 minutes prior to the event's start time) is recommended. If the onsite parking lot is full, guests will be able to park at auxiliary lots located within a few miles of the complex. Guests parking in auxiliary lots will be shuttled over to the event building.
For more information on parking, click here – https://www.spookynooksports.com/manheim/about/guest-information/parking
Fun Things to Do in the Area
Whether you're looking for a competitive activity for your team or a laid-back excursion, there are plenty of things for you to do in the area, including:
If you're willing to drive a little further, some other areas you can check out are: Hershey, Harrisburg, York and West Chester.
Who to Contact
If you have any questions about the event, feel free to submit our contact form or give us a call at 717-524-4265.

How to Begin? Contact Dame Leadership Today
CONTACT US