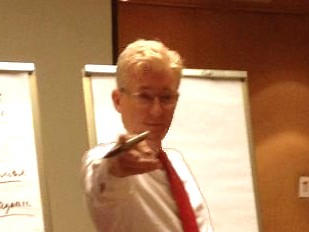 Ian MacDougall approaches this topic from an experiential standpoint. He has deployed the change management tools, processes, and approaches being taught here within his client organizations for more 35 years.
The takeaway value of this workshop is considerable and immediate:
Become an agent of change not a victim of change
Avoid or confront complacency within your function/team/ department or organization
Drive change initiatives deeper into your function/team/department or organization
Build a culture of ownership for the long-term success of your function/team/department or organization
Maintain or regain the spirit of entrepreneurship within your function/team/department or organization
Speaker Bio:
Ian MacDougal has been a Vistage speaker since 1987
He is the Founder of Corporate LifeCycles Inc. – a consulting firm that specializes in large-scale organizational change.
The mission of Corporate Lifecycles is to change the way management is practiced and taught – one company at a time.
His clients have included the New York University Center for Entrepreneurial Studies, Icelandair, Hunt Oil Company, Bank of America, U.S. Naval Weapons Research, Shell Oil, Charles Schwab & Co., Vodafone, UCLA Graduate School of Business, the National Power Company of Iceland, TAKKT AG, the Association for Unmanned Systems, IKEA and WEB.COM
His work has taken him to the mainland of China, the United Kingdom, the Republic of Ireland, Canada, Spain, Germany, Iceland, South Africa, Scandinavia, India, Australia, Singapore, Hong Kong, and Israel as well as almost every state in the Union.
Ian MacDougall was born in Scotland, educated in Scotland, England, and the United States, and makes his home in Boca Raton, FL.
This is a Vistage speaker/event. Contact us to learn more about joining a Vistage group.

How to Begin? Contact Dame Leadership Today
CONTACT US